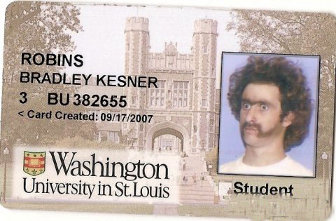 Stop me if you have heard this before. I'm a business guy, not so good on the technical side, and I've got a great idea that I need a programmer to develop for me. I don't have any funding yet, but I've got a really nebulous connection to the venture capital world. That being said, I'll start paying you once we get funding or we start making a lot of money from the project! All you need to do is write a Facebook clone in 2 weeks. For a smart programmer like you, that should be easy, right? I'll also cut you in on a little bit of equity. Let's get started!
This kind of shit lands on Craigslist so often that it makes you wonder what they actually teach at business schools (Side note: I recently learned that if you earn $1, you get to multiply that by about 20, the price/earnings ratio, meaning that the $1 you've earned is actually $20 in value. Makes me wonder how MBAs do differential equations.). It's time for we programmers to take revenge. So, a couple of months ago, I did a reverse-programmer troll on Craigslist. It went something like this:
Title:(computer gigs) Looking for Tech Idea Person

I am a computer programmer looking for a top-notch idea person to help build the next great internet company. Being a good programmer, I don't have many business ideas of my own. That's where you come in.

The perfect idea person to work with me will have:

A great business idea!
At least a passing knowledge of computers and the internet.
A vague reference to knowing somebody in the venture capital industry.

I have whipped up peoples' ideas very quickly in the past. Here is a list of some of the things I've built, and how long it's taken:

A facebook clone (4 days)
A flickr-like photo sharing web site (3 days)
A Google-like seach engine (2 weeks - longer because you have to stop spam!)

And hopefully, I can add YOUR idea to the list!

Note that I have a structured settlement from a lawsuit that I covers my basic expenses, so I don't need to be paid, but of course once we start making money, I'd like to be paid. Since I put the code together for these web sites so quickly, it's not fair to do a 50/50 split of ownership, but I would like to have at least a couple of percent.
Too obvious, right? This can't possibly generate any responses, I thought. Nope. 31 replies in about 2 hours, before Craigslist pulled the post. Here are some of the highlights:
Hi there,
I have been looking for a Man like you for years now.
i have a few superb ideas which have big potential.
please share you phone number.
we will discuss more about it.
thanks,
SP.
Swingers have a term, 'unicorn'. Look it up. It's called a unicorn for a reason.
We are introducing a similar site to Groupon.com. We are currently speaking with [VC I have never heard of] of [fund I have never heard of], who is interested in funding our project after beta is up. We businesses people who have been extremely successful in our past positions, looking for someone like you. We to get our site up and running, I already have one programmer. I would love to speak with you more, can we arrange a meeting at my Fremont office?

[Business Dude]
How refreshingly original. Do go on.
Hi,
I'm in the middle of a business plan and looking for co-founders to develop a web appliance for the medical industry. Do you know how to develop on a LAMP platform? Also, please let me know where you are located so we can arrange a meeting.
Cheers
--j
LAMP? Web appliance? Medical industry? Excuse me, I'm getting flustered by how awesome this idea probably is. Either that or it's the taste of bile. Can't tell.
People are afraid of lonely but dont't want to go out to street. People want to share and want communicate. That why social network is sucess such as facebook, youtube ...
Has anyone really been far even as decided to use even go want to do look more like?
Hello ,
I am happy to contact you with a set of fresh offerings.
- Saas
- Web 2.0
- Enterprise 2.0
- Open source consulting and Implementation

We are sure you will find it compelling. We have full time web developers and designers working with us in various technology stacks & moreover you can also hire them according to your need and get your stuff completed from your virtual team working dedicatedly for you fulltime (We can arrange for a telephonic Interview also with these designers & developers). We do have a global presence catering clients in US, UK, Australia and Canada. We have tons of expertise in developing Web 2.0, Action Script, AJAX, CSS, C, C++, JavaScript, XML, PHP, Joomla,Drupal,Wordpress, E commerce, SEO and .NET Framework, Mobile application based projects.

We can help with designing team who as expertise on designing tools such as ADOBE Suites,CS3,CS4,Flash,HTML etc

It will be great if you can have a short call/chat for a better understanding. As we work round the clock, time zone will not be a problem. Please let me know your time of convenience and a number / Skype id through which I can reach you..

For Web Application development we work for $12/hr and for Mobile application development we work for $15/hr.

Price will never be a deal breaker its always negotiable depending upon the project requirement.

Looking forward to hear from you for a win win business relationship.
Dammit, I knew I should have listed reading comprehension as a requirement.
You Can't Be Serious.
You sound like what every CL poster's dream, a poster dream
You should have added links.
This was from a fellow programmer who apparently got the joke. Jim F, keep on keepin' on, my brother.
Not long after that, Craigslist pulled the post, or, flagged and removed, which is the jargon for troll detected. Oh well, it was fun for a while.